Wednesday, August 18, 2010
The message below is originally published on my first (and outdated) blog. I'm moving it here because the event is worth remembering.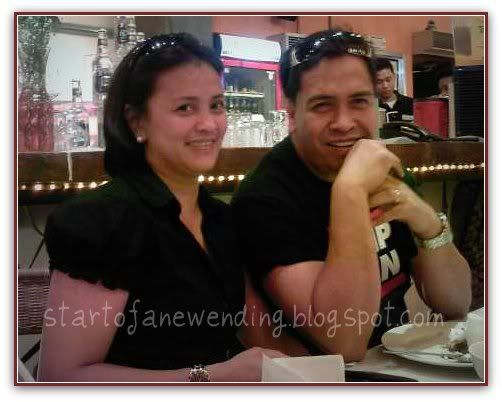 This is my Mom and Dad. The coolest buddies, well...parents, in the whole wide world! This picture was taken March of 2009 at Gerry's Grill, Greenhills, San Juan, Metro Manila.
When I first had the glimpse on Earth,
Never knowing anything, all naive,
A man carried me with outbursts of mirth.
This man, I felt, was uniquely amative.
When this man heard my first word,
He was very delighted doubtlessly.
He taught me more on his own accord,
Impart the whole dictionary if need be.

When he recognized my first walk,
He pushed me to move forward.
Until I had my first day at school-shock,
He remained supportive and ever on guard.
Now that I have finished school,
And have raised a family of my own.
I know he'll always be here for me,
All through these times and more.

I made this piece for you because I love you. I miss you a lot. You are still someone to look up to no matter how tall I've grown. I thank God for sending you to this world because you are truly one of a kind. I know you've got a lot of work to do but I hope this day would come out like the day you have want it to be. I am praying for your health all the time. You are the greatest hero and the family's greatest strength. We appreciate, admire and thank you for everything you have done for me and for us. Still, nothing can be better. Happy father's day, Papa.